Lake Norman Fireworks & Independence Day Parades
Lake Norman Fireworks & Independence Day Parades
It's time to book a trip to the lakeside of Charlotte and celebrate Independence Day! Here are some exciting July 4th celebrations and events going on around Lake Norman and the surrounding area. There are a couple private clubs on the lake where the public is encouraged to view their annual firework celebrations from the water which include the Peninsula Club and Trump National Golf Course. Be cautious on the lake at night, check your lights to be sure they are in working condition, and drive slow as this is one of the busiest nights on the water. Typically, you can see fireworks from every direction along with the numerous lights from the boats across the water – certainly a spectacle to see.
Gastonia Grizzlies Baseball Game and Fireworks Show
June 1, June 15, June 29, July 3 & July 27 @ 7 pm
Sims Legion Park
704.866.8622 | gastoniagrizzlies.com
"Take me out to the ballgame" and stay to catch the Firework Show following the end of the game! Sims Legion Park is one the most authentic ballparks in North Carolina with 4,000 seat surrounding the stadium. There is Beer Garden which offers adult beverages and a Kid Zone with bounce houses to keep your kids entertained. The firework extravaganza occurs on 5 dates during June and July, don't miss it!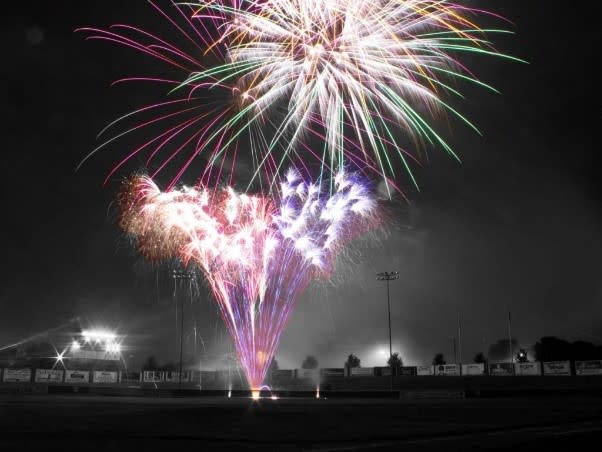 Symphony in the Park & Fireworks
June 22 @ 6pm
Bailey Road Park
704.892.6031 | www.cornelius.org
Bring your picnic baskets, blankets and chairs and join us for an evening with the Charlotte Symphony. The free KidZone will be open from 6 – 8 pm. Concessions will be available for purchase throughout the evening. Wine and craft beer proceeds benefit Lake Norman Wildlife Conservationalists. Coolers and picnic baskets are welcome! Gates open at 6 pm; fireworks immediately follow the performance.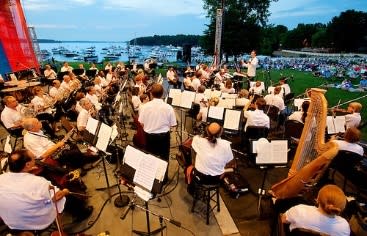 Troutman Independence Day Parade
June 29 @ 11am
Iredell County Fairgrounds
704.528.7600 | www.troutmannc.gov
The parade began in 2004 as the Iredell County Marine Corp Independence Day Parade. In 2010 the parade became the Troutman Independence Day Parade where a branch of the service is selected to be honored as the marshal of the parade each year. The festival is a free event starting at 5 pm until dark. There will be live music, food, arts and crafts, and kids games.
Fireworks will begin at about 9:30 pm.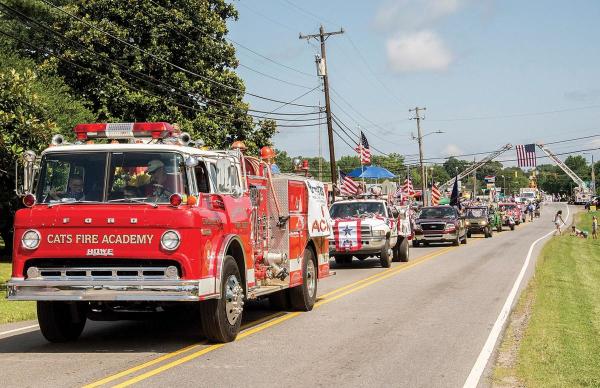 Denver Fireworks Spectacular
June 29 @ 4pm
East Lincoln High School
dabanc.org
Join Denver Area Business Association for the biggest fireworks and concert show ever. Headlining artists PARMALEE, Jeff Bates and Kelby Costner will be performing at East Lincoln High School for this celebration. The event is free and the music starts at 5pm.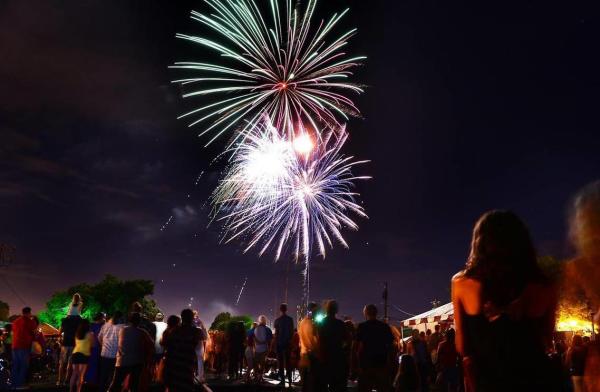 July 3rd Celebration
July 3 @ 6 pm
Lowe's YMCA
704.716.4000 | www.ymcacharlotte.org
The Lowe's YMCA July 3rd Summer Celebration is a community staple, bringing together families from across the Lake Norman community to enjoy fellowship, local entertainment and food, kid-friendly activities, and of course, spectacular fireworks. Bring a blanket and chairs, and sit back and enjoy the show.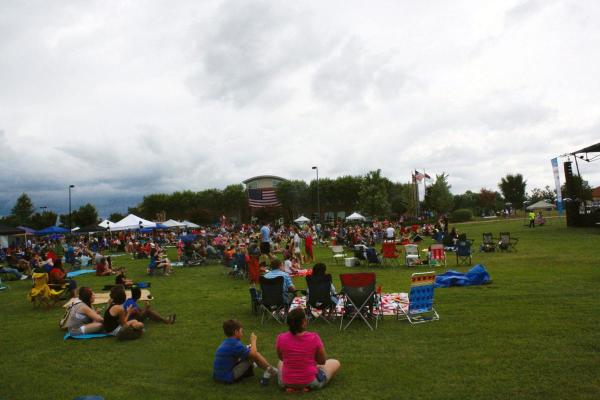 Summer Pops: Celebrate America!
July 3 @ 8:15pm
Symphony Park (Southpark)
704.972.2000 | www.charlottesymphony.org
Join your Charlotte Symphony for a rousing salute to America with a night of patriotic favorites including Sousa marches, "America the Beautiful," the Armed Forces Medley … all topped off by a spectacular fireworks finale. Arrive early to catch the prelude act featuring The Alan Barrington Band at 7pm.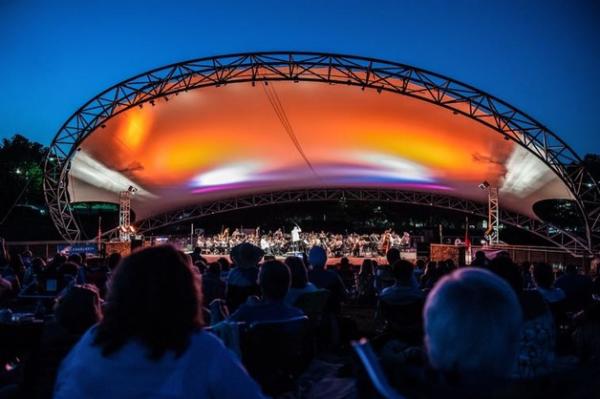 USNWC's 4th of July Festival
July 3-4 @ 9:30am
U.S. National Whitewater Center
704.391.3900 | www.usnwc.org
Whitewater's two-day Fourth of July Celebration is back for its ninth year and will provide plenty of opportunities to get active over the holidays. The festival features live music, various yoga practices, Battle Royale SUP Sprint, and two days of booming firework shows overlooking the world's largest man-made whitewater river. As with all of Whitewater's Festivals, the Fourth of July Celebration is free to attend, open to the public, and does not require tickets. The spectacular firework will display at 9:30 each night.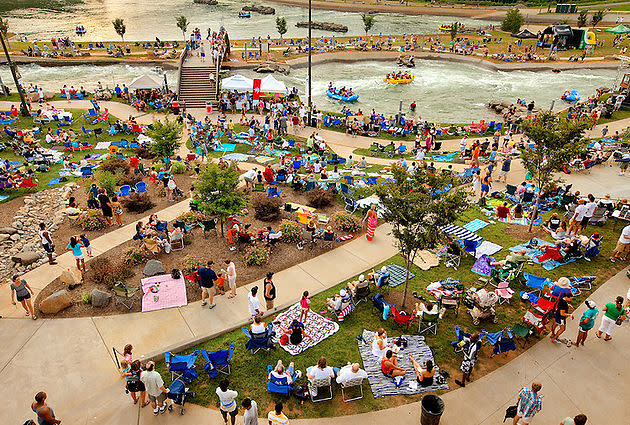 Harrisburg July 4th Celebration
July 3-4 @ 4pm
Harrisburg Park
704.455.5614 | www.harrisburgnc.org
Fireworks, amusements, food, parade, and entertainment! Join us at beautiful Harrisburg Park for two days of fun including amusements, food, entertainment and two nights of fireworks. The rides and inflatables are making a comeback as well! Purchase either a wristband for one or two days or individual tickets for each ride. Music provided by: Brooks Dixon Band, Zac Brown Tribute Band, Hip Pocket and Refugee – "The Ultimate Tom Petty & The Heartbreakers Experience". The firework show will begin at 9:30 pm each night and last approximately until 11PM.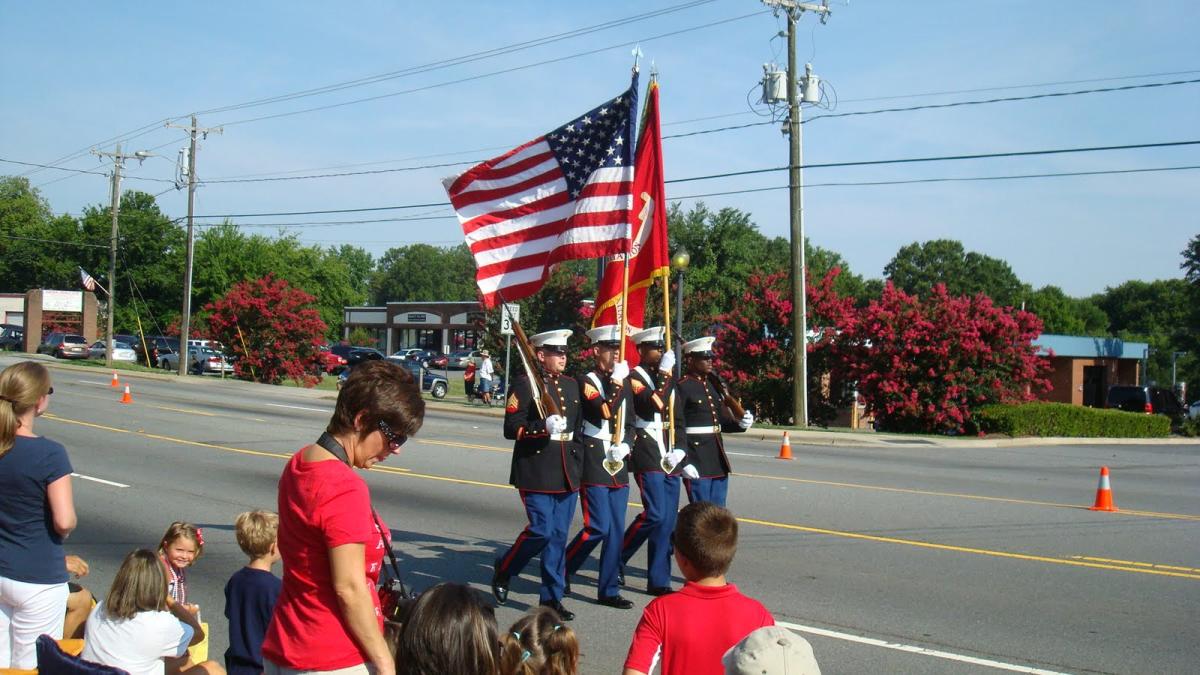 Skyshow and Street Party 2019
July 4 @ 2pm
BB&T Ball Park
980.207.0079 | www.skyshowcharlotte.com
Mint Street and Martin Luther King Jr. Blvd will be taken over in front of BB&T Ballpark starting at 2pm until 10pm for the SkyShow Street Party. The festivities will begin in the afternoon with the SkyShow Street Party, featuring activities for kids, games, prize giveaways, live music, and food trucks and drinks. And in the evening, the Charlotte Knights will host the Durham Bulls. The night will conclude with fireworks lighting up the Uptown Charlotte skyline.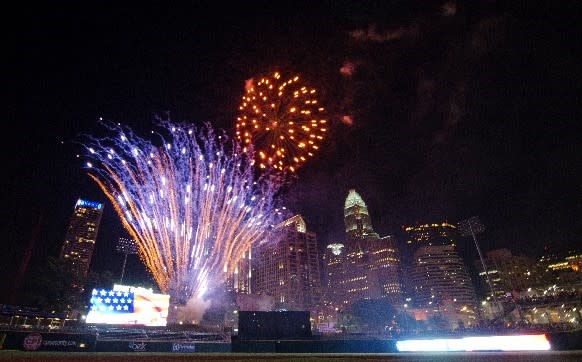 Downtown Davidson 4th of July Celebration
July 4 @ 5:30 pm
Downtown Davidson
704.892.7591 | www.exploredavidsonnc.com
Participants are encouraged to dress in red, white, and blue and may decorate bikes, wagons, and pets to march in the parade down Main Street. Although there are no fireworks, the parade will include a color guard, a fire engine, and lots of patriotic residents. This is a great way for our entire community to come together and show our Davidson spirit. Line-up will begin at 5:15 pm at Davidson Elementary School parking lot. Festivities will begin at 5:30 pm.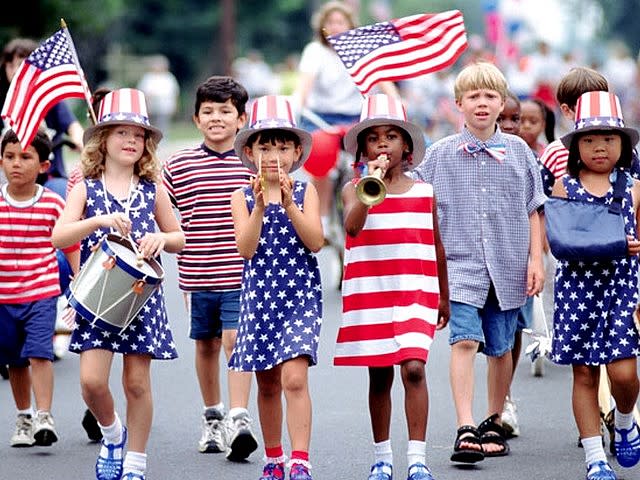 Celebrate America Fireworks Show
July 4-5 @ 9:30pm
Carowinds
www.carowinds.com
Join Carowinds on July 4th & 5th for spine-tingling rides including the all-new Copperhead Strike and Mountain Gliders. Wait for nightfall for the biggest fireworks show of the season. The America Firework Show illuminates the skies above the Carolina state line in one of the area's largest and most impressive displays of 4th of July celebration fireworks.
4th of July Trump National Fireworks By Water
July 4 @ 9:30pm
Trump National Golf Club Charlotte
704.799.7300 | https://www.trumpnationalcharlotte.com/
Trump National Golf Course (formerly The Point) will be launching their fireworks display from their Driving Range beginning at 9:30 pm. Boaters are obviously welcome to view the fireworks from the water, but Trump National is a Private club and will likely have limited and controlled parking by land.